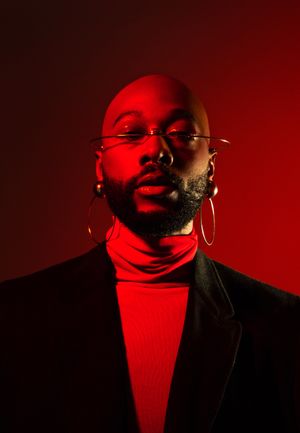 DESIIRE is a Congolese, Toronto based Queer singer songwriter who delivers a unique blend of R&B, Afro, Jazz and Electronic to create music that is filled with hypnotic instrumentals and moody complexities. 
His music has amassed more than 14 millions streams and featured on top Spotify, Apple and Amazing playlists and has been featured in Billboard, Rolling Stones, Afropunk, MTV,  The Fader, SPIN, Noisey, NOW, Exclaim, Now Magazine, CBC and more. 
He has graced the stage at festivals such as Manifesto, Pop Montreal, Luminato, Canadian Music Week, Toronto International Film Festival ( TIFF ), Pride Toronto, Fierte Montreal, Capital Pride and performed at prestigious venues such as The Canadian National Arts Center, The Royal Ontario Museum ( ROM ), The Art Gallery Of Ontario, Yonge & Dundas Square, Nathan Phillips Square, The Mod Club, The Drake Underground, Yonge and Dundas Square headlining and open for artists such as Ari Lennox and Mykki Blanco, Halvah Mighty, Tyler Shaw amongst others. 
In 2020, he was one of the faces of the #StrongerTogether telethon alongside Celine Dion Shania Twain, Sarah Mclaughan and more as one of the lead voices in the historic all-canadian collaboration #ArtistsCan with Justin Bieber, Avril Lavigne, Bryan Adam, Michael Buble and more. 
Ahead of the 50th annual Juno Awards, he was selected as one of the 10 artists to be a part of the prestigious JUNO Masterclass, Canada's leading new artist program. He has been featured in national campaigns for brands like Spotify, The Bay, Topshop. 
This coming year will see him continue his musical journey with the release of his new album. 
INSTAGRAM/TWITTER/FACEBOOK: @desiirenow